NET.Notes system is based on an intuitive user interface that does not deviate from the normal standards of web applications. The entire user interface is based on the principle desktop (desktop), under which users open records in the internal registers. The user works in one browser window and not distracted překlikáváním between the sub-windows. The entire work area itself has several interesting features:
during work opened bookmarks are saved and after closing and reopening a web browser, desktop displayed in its original layout. User ensures continuity of work.
system of internal bookmarks still manages to create a link to a bookmark, which he may be sent by e-mail, for example
desktop shows the components in the so-called 'responsive design' when it visually adapts computer screen resolution to be usable on each devices
A. NET.Notes right top menu
 
   New document quick action    
   View history    

   My bookmarks    
   My settings and logout    

B. Left top menu
 
   link to external email (GMail)   

   link to external calendar (GMail)   

   new bookmark to open page   

   restore view the current page  

    all tabs close – only tab 'Home' remains   
C. Left navigation
– contains navigation to each module and at the bottom there is a button for menu collapsing
Quick document creation
---
There are several buttons in the top bar. On the right side of the bar we find the "New Record" button, which is used to quickly create a new record. After clicking on the button will appear options that can be selected. Choose one of the options to create a new company, new email, etc.
View history
---
Your browsing history is one of the key parts of the system NET.Notes. This function automatically records the user's work and adds entries to the history of viewed pages. So you can return to a previously opened documents or lists of documents, or open your entire browsing history.
We can show one example, after coming to work you are trying to call one of your customers to solve some problem. In Contacts, you can find a company or contact person and try to phone him. Unfortunately he is not in the office. You decide to call in the afternoon. In the afternoon simply open browsing history by one-click and you will see the contact searched this morning. The same scenario can be applied to any record in the projects, activities or other documents in NET.Notes.
My bookmarks
Button "My bookmarks" shows favourite items, which you can add here by the button in the left top bar.

.  It may be, for example, frequently used activity or view, GTD board etc. The number shows the number of records …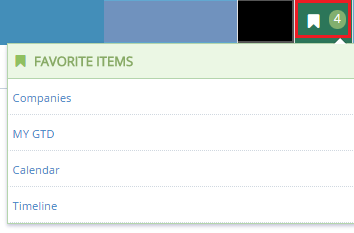 My settings and logout
Button on the far right with the user name used to access the settings, help and logout from the database …