In DIRECTORY you can find contacts to all your customers or partners. This application allows you to enter contact information across companies and individuals. In addition to contact information system provides a quick overview of other documents related with the company. Easily from card of companies you can wiev for example A list of activities or projects conducted at this company.
Companies and people can also quickly and easily founded. You have the option to use different variants of sorting contacts, for example, according to the type of client or manager, or simply enter part of the name to the search. 
List of companies
The work with directory is supported by system called Views that provide tools to quickly find the appropriate record in the database. The user for its founding and opening can use the following:
individual views, which are accessible from the left navigation. These ranks and groupe data in a predefined logic
by using tools of search
From the individual views, users can export records in MS Excel format. List of exported records matches the search criteria entered by the user for display in the browser.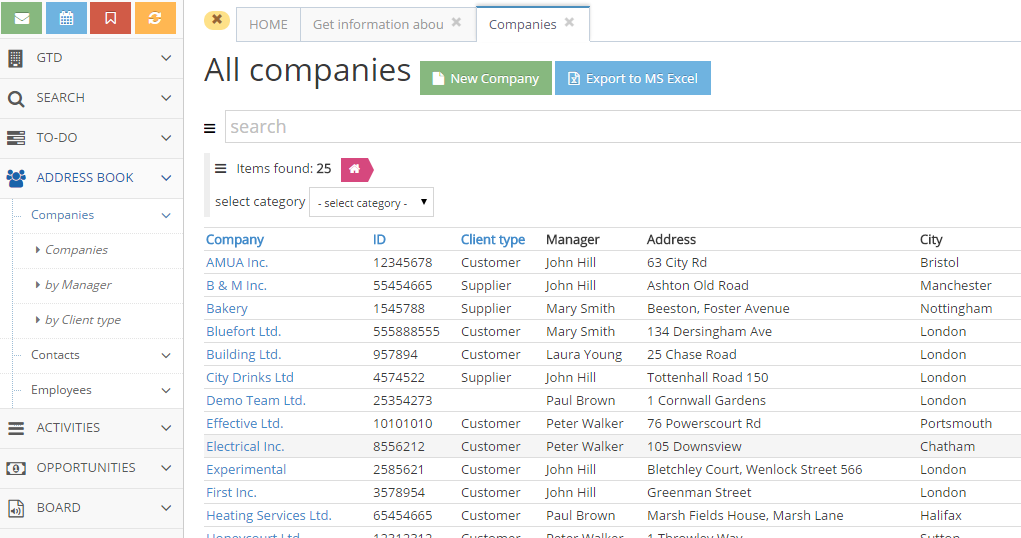 Card of company
Card of company is divided into invidual tabs, in which information are divided into logical sections. The part of form is a button bar allowing active work with records.
when creating a new record of companies you can use option of tightening contact data from the Commercial Register. Simply fill in the ID of company and click 'bring address from the Commercial Register', according IR will download and fill in the contact information in the appropriate fields of the record company.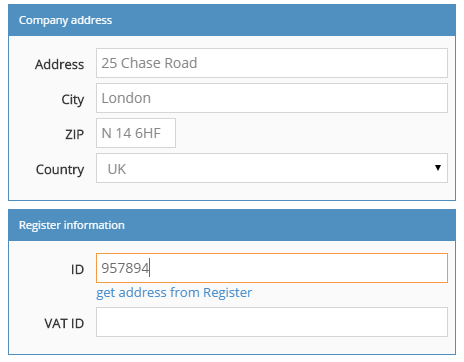 card of company with selected related information you can converte to PDF and then send via email or print it, for example as a basis for consultation
card of company can via menu '+ Create' establish a record of the person related to activity. On such records will company already predefined.
Related activities
One of the companies bookmarks tab displays a list of related activitiest. Items in the list of activities are displayed according to relevant user access rights. 

Other companies near
On each record companies are automatically tightened GPS coordinates of their headquarters by address on the card company.  This data is then used to display a list of companies that are located near the selected company, sorted by distance in kilometers. If you plan to visit your customer and you have some extra time here you can find out which companies are in the close surounding.
More about this function you can found here.